Rawlings Vision Plan Plus

---
Join over 6000 people in having peace of mind all year round, from only £11 per month
Introducing Rawlings Vision Plans
Rawlings Vision Plan Plus is a completely personalised eye care scheme, tailor made for glasses or contact lens wearers, offering gold standard eye care, fantastic discounts on spectacles, our best prices on contact lenses and a host of extras.
Your Eye Health – As a member of our scheme, all routine eye examinations, OCT (Optical Coherence Tomographer) scanning*, emergency appointments, and Contact Lens Assessments are included. You also receive discounts on our specialised services such Dry & Watery Eye Assessments and Blephex treatment for blepharitis.
Exclusive Discounts – Members benefit from discounts of 25% off frames and 40% off*† spectacle lenses, discounts on sunglasses and many other products. You can receive the discount on as many pairs as you like too, so you can have more than just the one pair, maybe one pair for serious business meetings and one for catching up with friends over lunch?  
Accidental Damage Cover – All complete spectacles purchased while you are a member of Rawlings Vision Plan Plus are covered by our cover which means that they will be repaired or replaced up to two years after purchase (as long as you remain a member) with a small excess to pay, so there is no need to worry.
Contact Lenses and Care – Everything can be included on the scheme in one easy monthly payment. All your eye care, contact lens care appointments and assessments, contact lenses and solutions can be added, and even delivered to your home. Plus the absolute best prices on contact lenses, usually cheaper than the internet. And because we are so passionate about contact lenses you know you will always be wearing the best lenses suitable for the health of your eyes and lifestyle.
How much does it cost?
The cost of your Rawlings Vision Plan membership will depend on your eye care needs, it is completely personalised to you. We will advise you of the costs during your visit to the practice. Payments are made by monthly Direct Debit and start from only £11 per month.
When do the benefits start?
You are registered as soon as the first payment is made and your benefits start immediately.
How do I register?
You can complete the agreement in the practice when you visit to have your eyes examined. The Direct Debit form can be signed easily with your bank details to hand.
*Not included on the Under 25 plan
†Lens discounts increase over time;. 25% discount immediately, 35% discount after 12 months membership, 40% discount after 24 months membership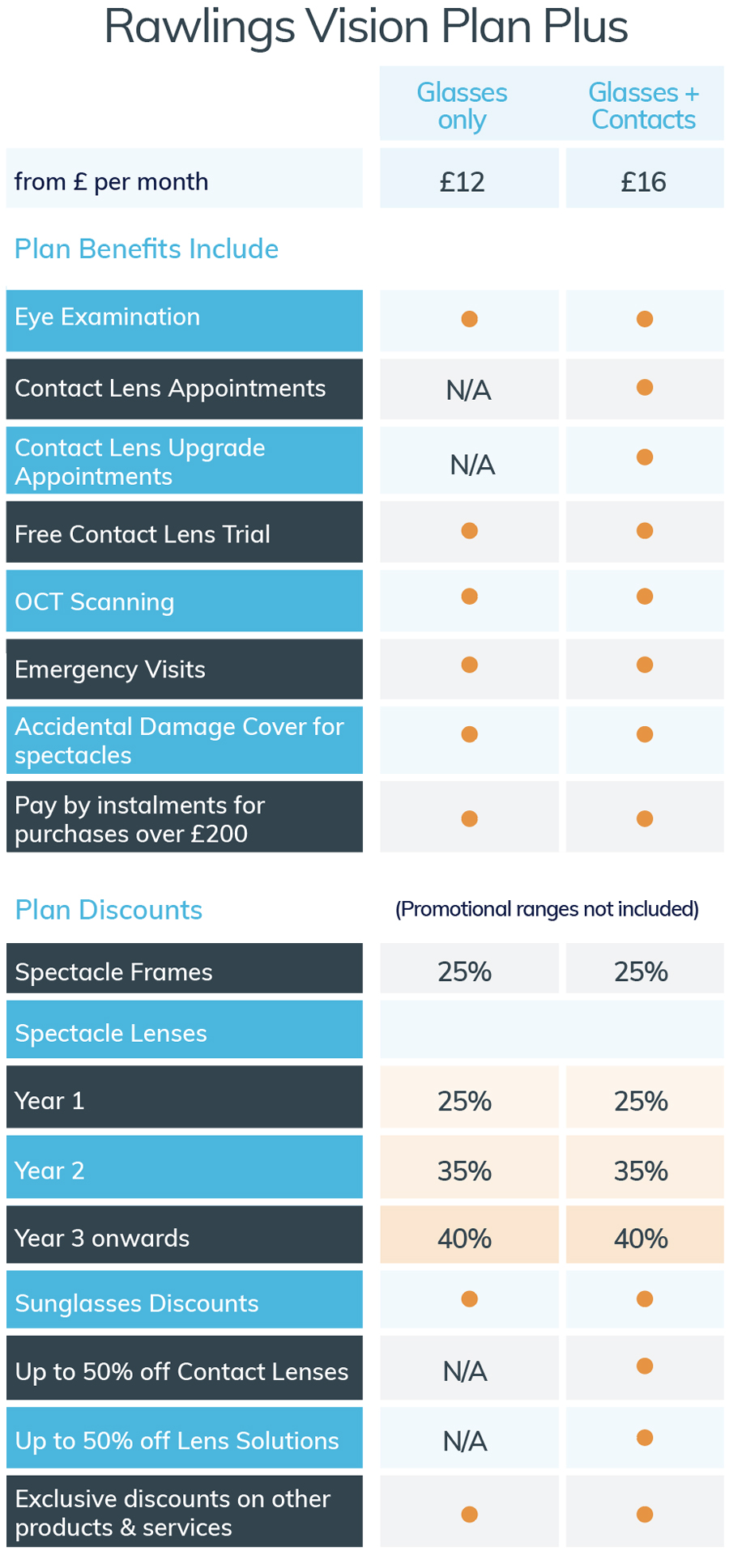 Please contact your local branch of
Rawlings Opticians
who will be able to answer any questions you may have about Rawlings Vision Plans, and help you spread the cost of your eye care.