About Us - Charitable Support
At Rawlings Opticians, we are committed to supporting local, national and international causes every year. Over recent years we have supported Vision Aid Overseas, CHECT (Childhood Eye Cancer Trust), World Sight Day and Optometry Giving Sight amongst many others.
Below are some of our current and previous projects and information about how you can get involved. If you would like your charity to be considered for support by Rawlings Opticians, please contact
Helen Short
.
In 2017 we are committed to supporting Vision Aid Overseas and CHECT
April 2017
Rawlings Opticians in Caterham continued their support of local charities with a donation of £250 to Bletchingly Skills Centre, the charity offering a varied programme of educational courses for the physically and visually impaired. Yesterday, Thursday 19th April, Wendy Cope accepted the cheque on behalf of BSC from Managing Director Richard Rawling inside their flagship opticians practice in Caterham.
Richard said:
"We are thrilled to be supporting such a worthwhile charity in our local area and helping to provide a wide range of educational courses to the community that we serve. We found out about the charity through the Town Crier, Sonia Hunt when we recently re-opened after our complete refurbishment in early January.

"The charity receives some support from Tandridge District Council but relies heavily on donations and fundraising to maintain the courses and the wheelchair accessible transport to the centre without which many of the students and volunteers would be denied access to attend the centre."
Rawlings Opticians supporting Childhood Eye Cancer Trust
In 2017 Rawlings Opticians are raising funds for the UK charity Childhood Eye Cancer Trust (CHECT). This small charity is close to our hearts as Optometrist Director Rachael Smith, diagnosed the condition in her nephew Lawrence. The charity provides support and information to families and individuals affected by retinoblastoma, an eye cancer affecting babies and young children.
CHECT funds research into the prevention and treatment of the condition, and campaigns to increase awareness of the symptoms and signs of retinoblastoma among health professionals and the public, and reduce the time taken to get diagnosis and treatment. Rachael is now part of the CHECT Professional Focus Group which helps direct the ways they can help the profession to raise awareness and increase early detection.
On 25th February 2017 a group of 6 of us from the Winchester branch took part in the WinchesterRotary Swimathon.
None of us were regular or proficient swimmers but we were aiming for 100 lengths in the 55 minutes allowed to raise money for the Childhood Eye Cancer Trust (CHECT), a charity close to our hearts as our Optometrist Rachael Smith diagnosed the condition in her nephew Laurence.
Here's a picture of us before the swim with Lawrence.
You can read their story here.
A huge thank you to all that supported and donated. We managed to swim an impressive 111 lengths and raised in excess of
£1000
for this worthy cause.
To find out more about their work, and the signs of retinoblastoma, please see their website
www.chect.org.uk
.
In 2013 we commemorated our 90th Anniversary in the City of Winchester and raised £850 for CHECT through fundraising. Below is our Managing Director, Richard Rawling, and Mayor of Winchester Ernie Jeffs donating a cheque to CHECT along with Lawrence and his mother.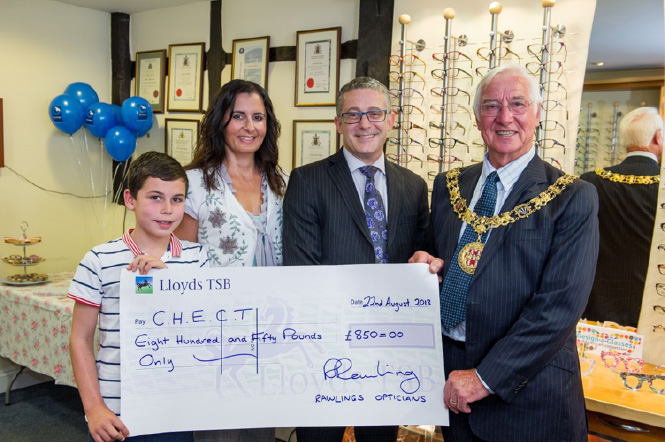 Rawlings Opticians helps Vision Aid Overseas bring lives into focus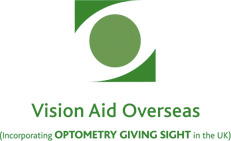 Rawlings Opticians is a long-standing supporter of Vision Aid Overseas, a charity dedicated to helping people in the developing world whose lives are blighted by poor eyesight and a lack of eye care services.
Our support for Vision Aid Overseas goes beyond just fundraising. Over the years, our qualified staff have provided valuable practical help and professional guidance by working as volunteers with VAO in Africa. In September 2016, our Optometrist and Director, Helen Short will be going to Sierra Leone on her fourth assignment with VAO to assist in setting up a vision centre and training local people so patients can get affordable eye tests and spectacles.
How you can help
You can help underprivileged people in Africa enjoy the same access to eye care that we take for granted by collecting and bringing in your old spectacles to your nearest Rawling Opticians. These are recycled by VAO to extract any material that can be sold to raise funds. In 2013 £25K was raised from the extracted gold alone, so please don't just throw you old spectacles in the bin.
Please visit Helen's JustGiving page
http://www.justgiving.com/fundraising/Helen-Short2
to find out more about her assignment in Sierra Leone.
2015 was the 30th anniversary of Vision Aid Overseas and we committed to raising £3,000 to recognise this outstanding achievement in helping to give those in the developing world a better future, that would otherwise have been prevented by poor eyesight. We raised just over £1,000 through donations in our practices and supplemented that with a donation of the remaining £2,000 from the company. Here is a photograph of our Chairperson Helen Short handing the cheque to Sarah Namusobya (Fundraising Officer at VAO).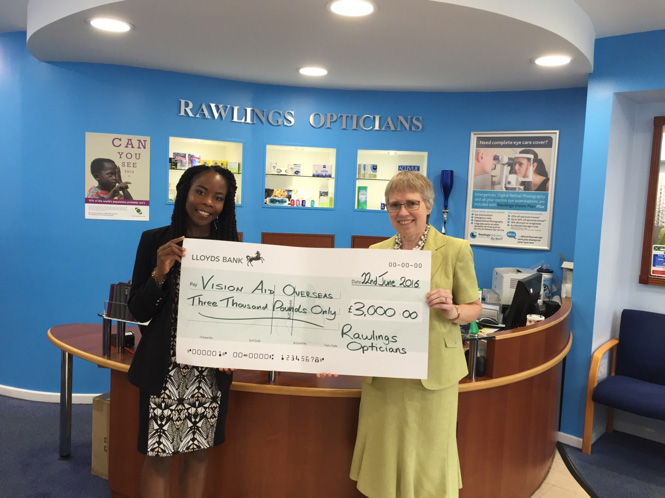 You can also make a donation at
www.vao.org.uk
, raise funds through sponsorship, or become a member of VAO today.
For further information or to make a donation please visit the VAO website.
Other good causes which we are proud to support are;
Croydon Vision who support those in the local area with sight loss. We raised £400 for Croydon Vision in our Croydon practice's centenary year and continue to support though our staff volunteering at their drop-in centre.
http://www.croydonvision.org.uk/

Gift of Sight based at Southampton University Hospital which is a charity who funds world-class research into the prevention and treatment of blindness. Age-related macular degeneration studies could also provide therapies for other blinding retinal diseases.
https://www.giftofsight.org.uk/

In the community we are also proud to sponsor various events which in 2016 include Winchester Chamber Music festival and Winchester Ukulele Festival.
We provide our staff with Dementia awareness training, and our Winchester practice was a finalist in the Dementia Friendly Winchester Business of the year Award in Winchester Business Excellence Awards 2016.