Blog

---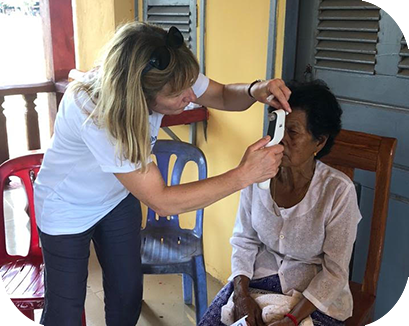 Cambodia trip 14th-21st October 2018
Posted: Friday 30th November 2018
Guest Blog by: Kate Malam
Rawlings allow a member of staff a weeks leave each year to use for charitable services. This year I applied and was accepted to do voluntary work for The Khmer Sight Foundation, and I have just spent an amazing week in Phnom Penh. The week I was there was a multinational team of English, German and Cambodian volunteers.
Khmer Sight Foundation is a small charity that offers cataract surgery for local people . Cataracts are very common there due to the hot sunny climate, people working outdoors and not protecting their eyes from UV light by wearing sunglasses. This also can cause a growth on the white of the eye called a pterygium, which could also be operated on at the clinic. We saw many people who had developed cataracts in their 30's or 40's which is virtually unheard of in the UK.
When we arrived up on the first day there was already a long queue of patients waiting outside. Firstly any patient that walks in is given a number, and a piece of paper to fill in their name, address and age (exact dates of birth are often not known), and they have to keep hold of that paper throughout their whole journey in the clinic.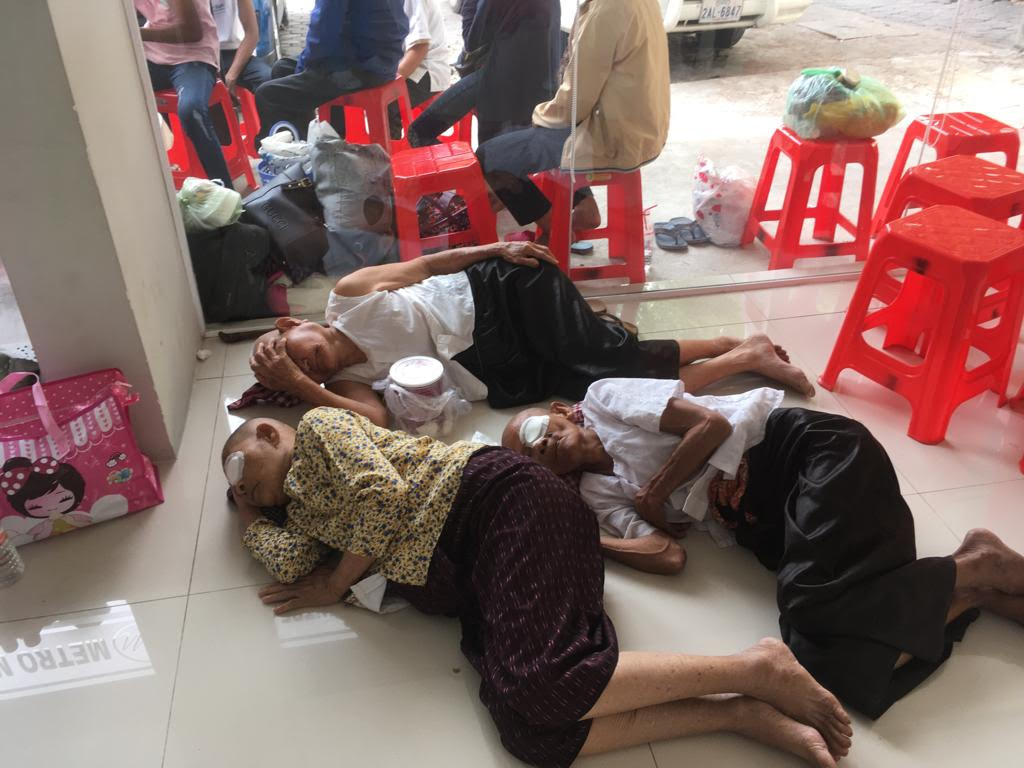 They then join the queue to have their vision measured followed by another queue to have a detailed examination using a biomicroscope, to see whether they would benefit from cataract or pterygium surgery. The clinic is not equipped to deal with other types of surgery (or to deal with children), so if there is anything else wrong they unfortunately have to be discharged. Anyone needing surgery is given the choice of having it done that day or to come back in a few days.
The whole journey from walking through the door to the end of surgery can take many hours and involves a lot of waiting in queues but these are the most patient people I've ever met and not once did I hear anyone complain about the wait.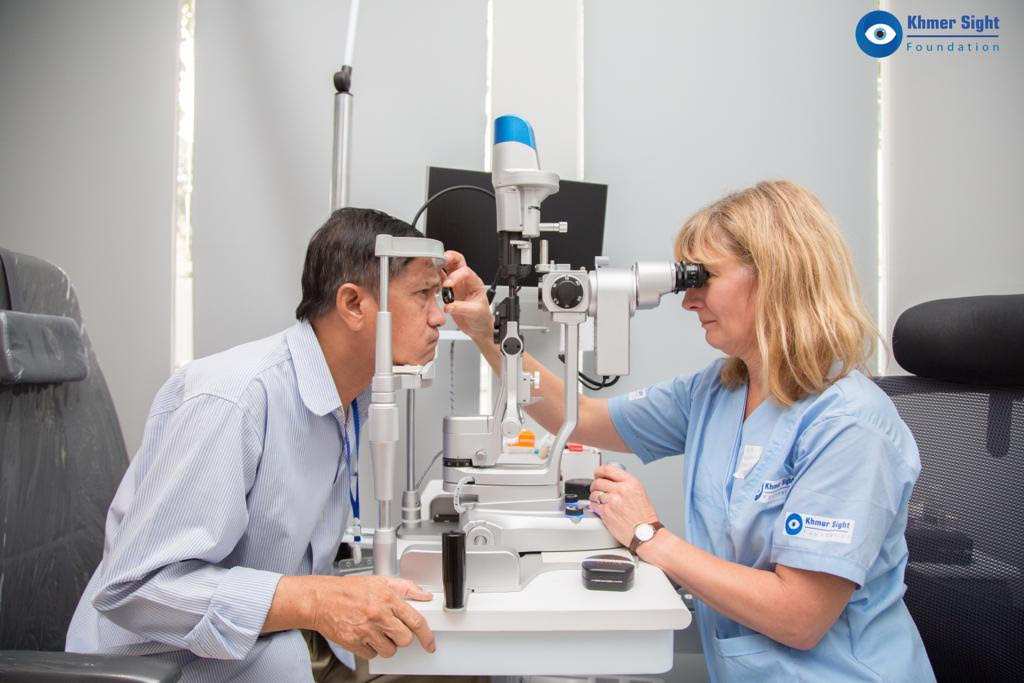 On our third day we were picked up from the hotel at 6.15am in a mini bus which took us out to a village 3 hours away to screen patients who have even less opportunity to access any form of health care. We arrived in the village to a crowd of people all waiting to see us. After setting up our equipment we started the process of checking vision, external examination and intraocular pressures. We saw over 100 people and recommended cataract or pterygium surgery to about 30. Those with early pterygium which weren't bad enough to operate on, were given a pair of brand new sunglasses, to protect their eyes from further damage.
Those from the village that wanted surgery were picked up in a bus 2 days later, taken to the clinic, operated on, put up in a hotel overnight in Phnom Penh, then after their post op checks, driven back to the village the next day, all paid for by the charity.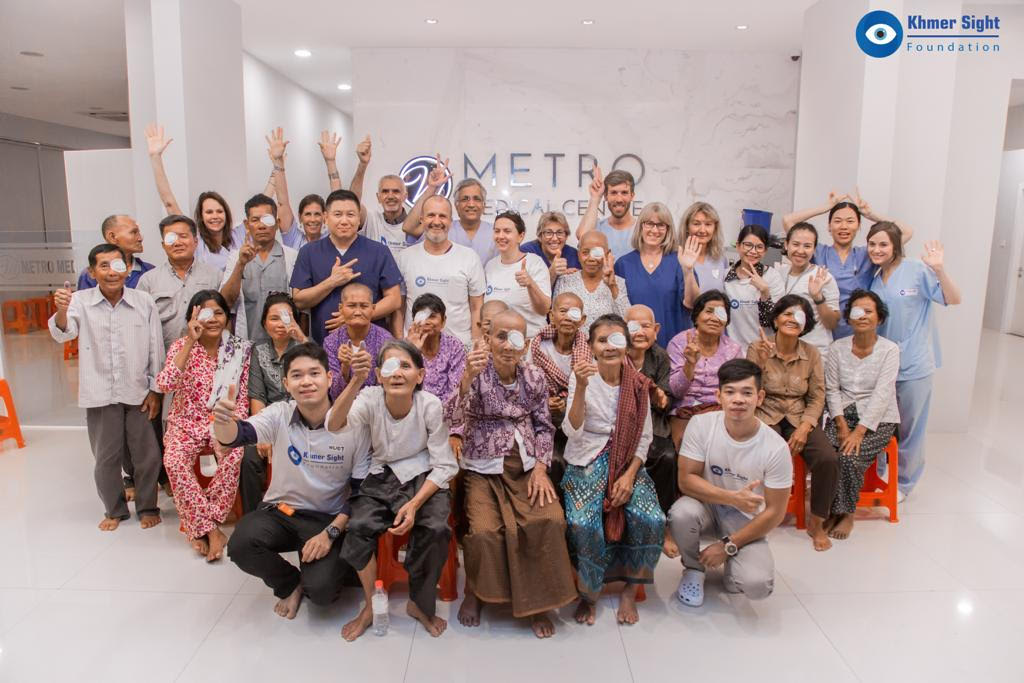 The next 3 days was a mixture of post op checks and new walk ins, from 9am until 5.30 or 6pm. Every evening we went straight from the clinic and had a meal out, followed by an early night every night as it was extremely exhausting.
It was an extremely rewarding and humbling experience, seeing how little some people have, but who are so grateful for anything offered to them. I hope that the small part I played that week has made a life changing difference to some who are now able to live a more normal life.
If you would like to donate to the Khmer Sight Foundation, further information is available on their website.
< Back
---