Prescription Sunglasses
The 2019 range of prescription sunglasses is better than ever with new designs, the latest materials and styles and the widest choice.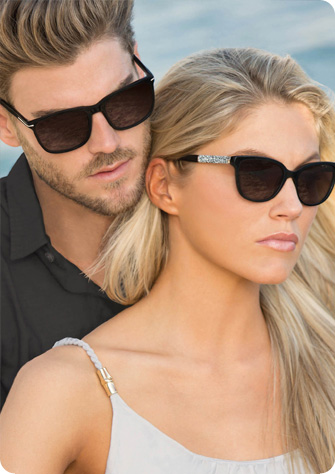 Our Cocoa Mint range for ladies and Jensen range for men have the latest shapes and materials and incorporates the winner of the Optician Awards Frame of the Year, featuring a high-gloss black cut-out eyefront that sits perfectly 'on the pulse' of today's fashion trends, alongside striking gold temples.
With prices starting at just £99 for a complete pair of single vision prescription sunglasses the price will suit your pocket as well. What's more, every pair of sunglasses we dispense is guaranteed to conform to British and International standards to ensure your eyes are protected from damaging ultra violet light which is around even on cloudy days. Bifocal and Varifocal options are also available from only £149 and £169 respectively.
For the best in glare reduction choose to upgrade to polarising lenses which cancel out light reflected off horizontal surfaces such as the road, the beach or water. Until you try them, you won't believe how relaxing polarised lenses are to wear. Our fully qualified Dispensing Opticians will be happy to demonstrate these lenses to you so that you can see what a difference they make.
We also offer prescription options in designer sunglasses such as Ray Ban, Gucci, Dior Tom Ford and Jimmy Choo as well as our range of prescription sports sunglasses from well-known names such as Oakley, Revo and Bolle.
Come in and ask
about our range of prescription sunglasses, we're sure you will find something you love for the summer.