Cycling

---
As you can imagine, travelling quickly through the air, cyclists frequently experience problems with dust and flying debris, causing eye irritation and dryness, reducing vision and preventing them from performing at their best.
Cycling eyewear can eliminate these problems along with the dryness, injury or tears it causes due to the increased airflow. The right eyewear can provide coverage and protection whether you require a prescription or not. If you wear contact lenses the risks are still there with the additional risk of dry lenses becoming destabilised and causing vision to become more blurry or distorted.
Frames and lenses should be as close to unbreakable as possible. Protection is vital for cycling eyewear in terms of the sun, wind, dust, insects and road debris, therefore there is a need to blend toughened polycarbonate lenses with a tint to match your usual environment, but all in a close fitting wrap-around frame to maximise peripheral vision and protect your eyes from the elements. The ideal tint will depend on the conditions you tend to cycle in.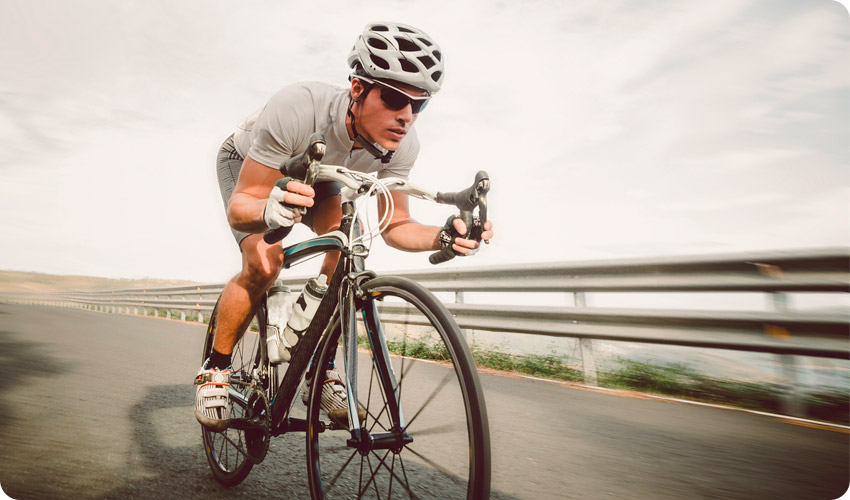 Those who want protection purely on bright days consider polarising options, as they have been specifically designed to eliminate glare and reflections of the road. Alternatively if you want something to help out in lower light conditions, where wind protection is as important as brightness, light enhancing yellow and orange lenses should be considered. Whatever choice you go for, full UV protection is a must.
If you find it impossible to choose, interchangeable or variable tint lenses may be the solution especially with our unpredictable climate.
There is a huge variation of choice for those who require vision correction with inserts and full prescription lenses ensuring you vision stays as clear as possible.
To check that your vision is as clear as possible whatever your sport -
book an eye examination
with one of our optometrists as well as seeing our dispensing team to discuss your sports eyewear requirements.