Contact Lenses

---
Whatever your prescription, we can help you find the best contact lenses for your lifestyle, and the way you want to wear them.
If you are thinking about contact lenses for the first time you should find this guide to our range of lenses very useful.
At Rawlings, our fully qualified Optometrists and Contact Lens Opticians will examine your eyes and will determine their health and suitability specifically for contact lens wear. We will then advise you on the best lenses for your requirements. This may be daily disposable lenses for convenience and simplicity, lenses to correct astigmatism, varifocal contact lenses or even contact lenses for reading. Whatever the type you choose, you can relax in the assurance of a level of service and professional care that is second to none.
Rawlings Opticians are independent opticians which means we are able to offer products from a huge range of manufacturers including the latest in contact lens materials and technology which may not yet be available to other opticians. This is just one of the reasons that almost 3000 people come to Rawlings for their contact lenses.
It may also be reassuring to know that we have been recognised by Johnson & Johnson as an Acuvue Centre of Excellence and a Visionary practice by Coopervision giving us access to the very latest products before they are available on general release. We regularly attend international contact lens conferences to ensure we are up to date with the latest techniques, developments and products.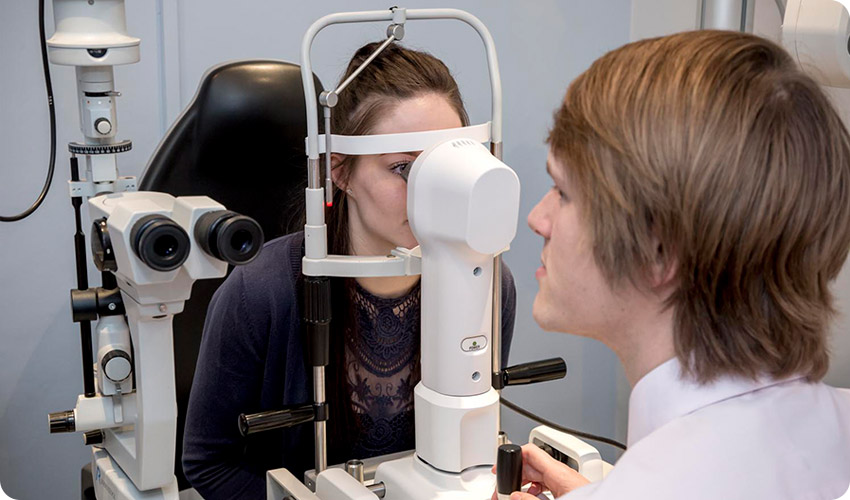 Over 40's will know what a nuisance having to put reading glasses on and off can be. The good news is that contact lenses can solve this problem. Contact lenses for reading are now available in daily disposable, disposable, soft and gas permeable materials and are suitable for more mature contact lens wearers without the need for additional reading glasses.
Children and teenagers can also be fitted with contact lenses even when their prescription is still changing – with disposable lenses this is no problem. The age at which a child can begin to wear lenses should be discussed with the optometrist as it will vary from child to child. Many children start with contact lenses at around the age of 10, however it is often possible to begin at an earlier age especially if there are other confident contact lens wearers in the household.
Successful wearers of contact lenses find it easy to explain why they can be so much better than spectacles. Many people feel they look better, especially if they require a very strong prescription. Spectacle frames can sometimes give blind spots and restrict the field of view. Contact lenses are often better for certain sports as they float in the tear layer of the eye which usually provides better all-round vision than spectacles and they also reduce the risk of you damaging your glasses.
A Contact Lens Assessment at Rawlings Opticians includes free trial contact lenses for you to take home and wear in your own environment to see the benefits for yourself! Click on the link here for more information, and book an appointment here.
If you join the Rawlings Vision Plan you will receive lenses at the most competitive prices, usually lower than internet and high street suppliers, removing the hassle involved and with the same high standard of customer care you can rely on with Rawlings.
Different types of contact lenses:
Soft lenses
Soft lenses are popular because they are comfortable almost straight away. They are flexible as they absorb tears which carry fresh oxygen to the surface of the eye. They are close fitting which makes them particularly suitable for sport. The latest soft lenses are available in silicon hydrogel materials making it now possible to wear lenses for up to 30 days and nights. Soft lenses are available for distance vision, reading, and astigmatism.
Disposable lenses
Disposable lenses are a very more convenient and healthy option for your eyes. They are soft lenses which are replaced regularly before the lens has time to become dirty.
Daily Disposable
Daily Disposable lenses are the ultimate in comfort and convenience and can be worn to suit your lifestyle as every day you have a brand new, fresh, sterile lens to wear. If you wish to wear your lenses occasionally or just for specific reasons such as sport or social occasions these are often the most convenient and comfortable option. They are now available for astigmatism, varifocals and for reading.
Ortho-K (Eyedream)
These lenses are suitable for short-sighted (myopic) adults and children who want to be contact lens and glasses-free during the day. They are simply worn overnight from bedtime, and gently shape the surface of the eye overnight giving clear vision when the lenses are removed on waking. They are also used for myopia management. Please click on the
Ortho-K
and
Myopia Management
links for more information. Ortho K is available at our
Winchester branch
.
Scleral lenses
Scleral lenses are comfortable rigid lenses which bathe the eye with fluid during wear and so can be suitable for some dry eye patients, complex prescriptions and conditions such as keratoconus where the front of the eye has an unusual shape causing blurred vision with other lens types. Scleral lenses are available at our
Winchester branch
.
Rigid Gas Permeable
Rigid Gas Permeable are the new generation hard lenses, made from special plastics which allow air to pass through microscopic spaces. They take a little longer to adapt to than soft lenses but become just as comfortable after a week or two. They provide very clear vision and are easy to care for.